Inspired by their mutual devotion to Jazz, world music, and social justice, Hyuna Park and Myriam Phiro have created MARIPOSA, an all-female international Jazz Band with a mission. As a jazz collective, Mariposa brings together 5 musicians who passionately share their musical influences through a unique interpretation of jazz and international standards. This invitation to their musical journey is presented as a symbol of empowerment -- the butterfly ("Mariposa" in Spanish) representing the "chaos" concept that "small incidents can produce larger effects."
Hyuna Park (piano and musical direction), Myriam Phiro (vocals and bandleader), Leonor Falcon (violin), Tina Lama (bass), and Mariana Ramirez (drums and percussion) all come from different walks of life and parts of the world. To celebrate NYC's vast musical diversity, they have adopted a common tongue in a stylistic approach to Jazz which combines North and South American rhythms and languages from 4 different countries, an international repertoire, and an irresistible groove that will make you want to dance, clap, or tap your foot. This musical drive and inventiveness, together with its powerful message of authenticity and world vision, will carry the listener along with MARIPOSA on the wings of their journey to a musical and cultural transformation.
Myriam Phiro ~ Vocals & Band leading
Myriam Phiro is an internationally-recognized French-Canadian actress, jazz singer, dancer and cabaret chanteuse who has performed on stages and in theaters worldwide. Her recent performances include sold-out concerts at world-famous the Rainbow Room, 54 Below, the Iridium Jazz club & Metropolitan Room in NYC as well as at Montreal's International Jazz Festival & Montreux Jazz Festival. Her performing endeavors brought her to collaborate and share the stage with renowned artists such as Harry Connick Jr, Janis Siegel, Nicki Parrott, Marilyn Maye, Frank Vignola and Vince Giordano. Ms Phiro's performances feature a fresh take on jazz and French standards as well as the famous tunes of the Great American Songbook, all topped up with a delightful international flavor and a certain "joie de vivre". She is now promoting her debut full-length Jazz album "Voyages" who received a nomination for a MAC Award in the "Best album" category. She was also a recipient of the "Hot House Jazz Awards" nomination in the "Best New Jazz Artist" category. All info at www.myriamphiro.com
Hyuna Park is an award-winning New-York-based jazz pianist from Korea. Her unique musical voice embraces everything from contemporary rhythms, to classical influences, to swinging hard bop; she takes the listener on a mesmerizing journey, which is full of energy, and in which you never exacly know where you are going to end up. She has now become an intergral part of the cutting edge of the New York jazz scene performing with Grammy-winners Antonio Hart, Vincent Herring, Luis Bonilla, Linda Oh, Michel Mossman, Ivan Renta, Vincent Cherico, Lonnie Plaxico, David Wang, and Andy McKee. She has performed at a number of international festivals: Jarasum Festival, Shanghai Jazz Festival, Xi Hu Festival in Hangzhou, JMI Festival, and many others.
Tina Lama is a bassist from Ithaca, NY. Over the past 17 years, she has performed and recorded with various groups throughout North America. She is featured on over 20 albums – most recently with the Emmy-nominated group, Gangstagrass, whose music is the theme for the FX Network show "Justified". In addition, she has performed alongside many great artists including Tony Bennett, Danilo Perez, Adam Cruz, Jimmy Heath, as well as members of A Tribe Called Quest and Black Sheep.
Violinist and violist Leonor Falcon has a very diverse background in performing music of different genres. As an improviser Leonor Falcón has had a truly interesting interdisciplinary career in New York city as a valuable addition in ensembles that are dedicated to Jazz, Avant Garde, Latin and classical music such as Willie Colon's band, Akua Dixon's string quartet, Sirius Quartet, Karl Berger improvisers orchestra, and Camila Meza Nectar Orchestra. She is also one of the founders of the Solar string quartet which has performed at many venues across New York backing some truly exciting performers such as Mario Castro, Joanna Wallfisch and Julien Hucq among others. This fall of 2017 she'll be releasing her debut album IMAGA MONDO under her own label Falcon Gumba Records.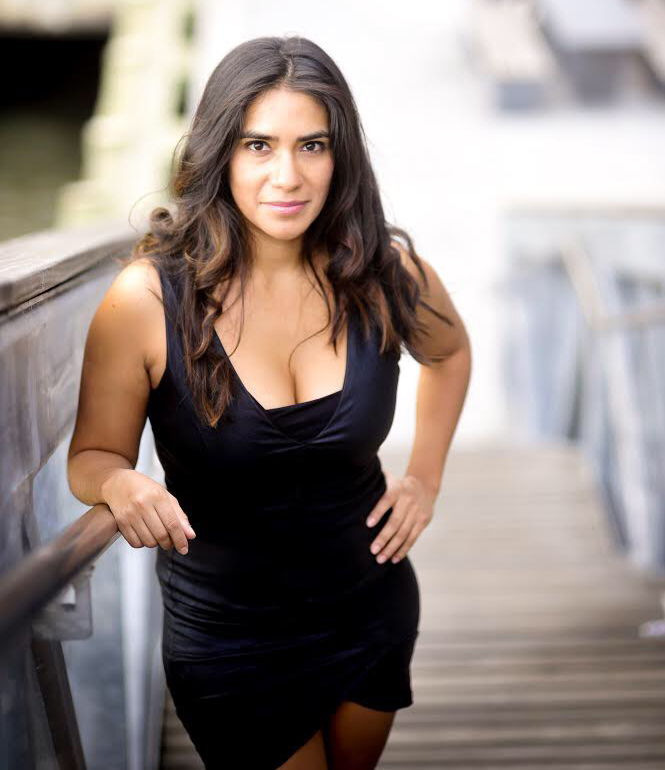 Mariana Ramirez ~ Drums & Percussions
From Symphonic orchestras, Broadway, off-Broadway productions, Mexican traditional music for marimba, to chamber and pop music, Mariana Ramirez has performed in Europe, Asia, Mexico, and the United States. A native from Mexico City, Mariana is a NYC-based freelance percussionist who began her music studies at the National Conservatory of Music in Mexico City. She went to receive her Bachelors of Music in percussion performance from the Mason Gross School of Arts at Rutgers University. She has performed extensively with symphonic and chamber orchestras in Mexico and the United States. Currently Mariana is the percussionist of American Dance Machine, an off-Broadway show directed by Wayne Cilento (Wicked). Mariana is also founder of the all-female Sabian Cymbals endorsed percussion quartet Excelsis, which has performed on the NPR Radio's From the Top show, at the Percussive Arts Society New York Weekend of Percussion, Brooklyn Bound with So Percussion, Zeltsman's Marimba Festival, and Tippet Rise Music Festival in Montana.